Posted by Nina on Sep 15, 2009
Now that we're unpacked and are finally settled in back at home I have time to give you a proper update and post about the trip to Georgia! The day we arrived we quickly ran to get our rental car and checked in to our hotel in Atlanta and then ran to the Good Eat's 10th Anniversary show. It will air on the Food Network on October 10th at 10:00PM.

We weren't allowed to photograph or record the program so all we were able to get were a few shots of the band that played and various stage changes. We had center stage seats and we weren't all that far away (seats 120-something). The show wasn't your average cooking show. There wasn't any actual cooking.. instead it was more like a variety show. It started off with him sitting on the sofa with Ted Allen interviewing him, then moved through various performances of game show quizzes and clips from previous episodes. There was 1 other taping earlier in the day but our show lasted longer and was much louder than the first show. If you see a a red and white pixel (red hair, white top) center stage when it airs, that's probably me!

The next day we checked out of our hotel and headed to the aquarium. As in my previous post I mentioned how awesome it was. We spent the entire day there. We got to see a couple feedings and the fish were all amazing. Aquariums are one of my favorite places to be. I'd live under water if I could! Everyone knows how much I love to swim! The penguins were having their habitat rebuilt so we didn't get to see them. 🙁 We had tickets to the Titanic exhibit (see my blog post here for more details) and went there after browsing the fish. I can't even tell you how amazing and tragically sad it all felt to me. You got to see a recreation of a 1st class & 3rd class rooms, actual clothes and luggage, and even smell the perfume of some of the passengers. There were dozens of dishes and pots and things you could see, and every item I saw, I kept being reminded of just how many people lost loved ones that fateful night.. so it was a bittersweet experience. I was fascinated by everything they managed to pull up and preserve and yet saddened by the tragic loss of life that made these things so famous… even more bittersweet at the end of the voyage you find out of the people you were and were with survived. My husband's passenger didn't survive and it was a great reminder never to take a day with him for granted. We then jumped in our car and headed out to Savannah.
We decided to stay near the Savannah airport since everything we read online said downtown was rough at night.. but we didn't really find that to be true… maybe who ever said that has never been to Detroit at night? or at the very least, not a Detroiter! lol We ran to Walmart to pick up a few things and then decided to get to sleep so we could see the sights early in the morning. We spent a lot of our time up and down River Street visiting all the little shops there and then went on to the Visitor Information Center to pick up a map and get an idea for things we might want to do around the city. The first thing I always do when going to a new place is check yelp for local yarn shops so I can gather some yarn for a project. I decided on Wild Fibre. The shop is little but is stocked with brand names like Rowan, Plymouth, Berroco, and more.. they also have spinning fibers.

We decided OK, I decided, that we should take a ghost of Savannah tour and there were tons to choose from.. one of them you even ride in a hearse! I couldn't talk my husband into getting on a hearse so we settled for the T.A.P.S. tour.. the one that was featured on Sci-Fi's Ghost Hunter's. We got our tickets and waited for the black trolley to come pick us up. It was PACKED! Every single seat filled. I forgot to snap a photograph of the trolley guide but I managed to snap a photo of the house tour guide. The inside of the trolley is decked out something like an old hearse or coffin.. I am not sure which is more appropriate. The first stop is an old Manor house that we all left the trolley and went into a pitch black house and you're shuffled from room to room until you are moved into the slave quarters and you are played a recording that T.A.P.S. was supposed to have recorded. You then tour the grounds and back to the trolley you go! You then drive by various houses and hear the stories of the people who lived there. The last stop is of an old Cemetery where a man was murdered and the crime was never solved. I won't give away all the details.. if you are ever in Savannah, you should check one out! They are at the very least, fun! We didn't catch a ghost on film, but one of the men next to me swears he captured one on his cell phone… I sort of think it looked like a reflection from my camera flash.. but who am I to ruin his fun?

We took in the musket demonstration that I mentioned in my previous post and we ate at a few little places on River Street.. River House was one of them but I can't remember the other's 🙁 They were both good but all the places we visited had very little for Vegetarians on their menus and Vegans were limited to salads and make your own dressings. There was however one exception. The Lady & Son's.

On all of your tourist information you are told that you need to be at the restaurant at 9am to make reservations for dinner. I am not really sure if you have to do this or not.. I'll explain this in a moment. We made our reservation for 7pm and when we got there we were told to head to the 3rd floor. The first floor looked to have a buffet that you served yourself from.. the elevator was full of elegant gold lights and mirrors, you know, so the ladies can fix their make-up. When we walked into the 3rd floor all of the rooms were painted ivory with plants and shabby chic style paintings on the walls. The ceiling had pipes exposed but were also painted white and the windows all had green shutters. It was more or less how I actually pictured her restaurant looking. When you are seated a waiter brings you a hoecake (a regular pancake) and a cheese biscuit then hands you your menus. On the menu there also isn't much for Vegetarians but I can tell you first hand, they will make you up a killer salad that would feed an army upon request! We decided to order a salad to split between us for an appetizer.. the salad they brought us easily could have fed a family of 4! It was apparent to us that no one ever leaves Paula Deen's hungry! Sergey had salmon which came with some sort of fried rosoto cakes and asparagus.. we also got to see what their chicken potpie looked like. It was a huge charger plate full of a creamy chicken & vegetable filling topped with latticed butter pastry. No, there was no shortage of food or butter at Paula Deen's! I had a martini of some kind there but I can't remember the name.. Southern Lady? something like that.. it tasted of orange and would be perfect for breakfast or brunch! We shared a piece of key lime pie for desert and went back to our hotel bloated and happy.
and I think that pretty much sums up most of our trip. 🙂 We had a great time… and if you get the chance.. go! If you plan to go to the Lady & Son's, you might want to make reservations if you don't care to wait for a free table, but I think walk in's will eat downstairs at the buffet area.. I'm not positive about this but that was the impression I got.
Posted by Nina on Sep 6, 2009
We really hated to leave Georgia and we had a wonderful time! The week flew by and there was still so much we wanted to see so I think we will have to plan another trip! I'd even venture to say we had a better time in Georgia than we did in California.. but shh! don't tell anyone I said that! I'll give a quick update and some photos (since I know that's why you're really here!) and then a more formal post after Labor Day.

After Alton Brown's show we only had 1 day left in Atlanta so we chose to spend it at the Aquarium! It was full of amazing fish, otters, crocodiles, whales, sharks, you name it, they had it! After browsing the fish we headed up to the Titanic exhibit.


That was pretty amazing. We were each handed a boarding pass and then we were permitted to enter. We saw dishes, boxes, clothing, tools, and various other things that they have raised from Titanic. The boarding passes contained the name, class, and a brief story of someone aboard the ship and at the end of the exhibit you find out if that person lived or perished. Inside the 3rd class cabins you could hear the noises that the passengers would have heard aboard the ship and you could even touch an ice berg and feel how cold the water would have been that night.
My pass was a 1st class woman by the name of Mrs. Henry Birkhardt Harris (Irene Wallch) who was 36yrs old and from New York, New York. She was accompanied by her husband and stayed in cabin C-83. They were returning from an extended holiday in Europe. Her husband Henry was a famous Broadway producer who owned the Follies Bergere. Henry so depended on Renee for advice in his business that he often said "If anything happens to me, she could pick up the reins." While on Titanic Renee slipped and broke her arm… Sergey said that sounds exactly like me so very fitting I was given her boarding pass.
Sergey was given the pass of Mr. Paul Edvin Andreasson who was 20yrs old and traveling in 3rd class. Paul was sailing from Southampton and was from Småland, Sweden. He was accompanied by Albert Augustsson, Carl Jonsson, Nils Johansson, and Olga Lundin (friends). He was traveling to be with his brother Earnst, who lived in Chicago. In Sweden, he had trained for seven years to become a blacksmith. Presumably, he planned to look for work as a smith in Chicago. Paul was one of 106 Swedes on Titanic, almost all of whom traveled in third class.
My passenger survived Titanic, Sergey's did not.

From there we headed to Savannah. We were told that it would storm the entire time we were there due to the hurricanes and tropical storms passing through, however, we only ran into one storm while we were there and very little rain. We got lucky! We spent a lot of time down on River Street and shopped in some of the stores there.


We headed up to Tybee Island to see Fort Pulaski for a Confederate giving musket demonstrations.. I was fascinated by the spinning wheel they had on display. It was amazing. I wanted to touch it.. but I didn't. It stood tall and proud on display inside the shop there.


We spent our anniversary dinner at Paula Deen's restaurant (more on this stuff later), and Sergey gave me the most beautiful sapphire and diamond earrings ever. Aren't they beautiful?! So to sum up our vacation.. we had a blast.. we were sad to leave but happy to be home. We had a wonderful time together, and the food was amazing.. Alton Brown was awesome, and though we're exhausted, we would go back in a heartbeat!
Posted by Nina on Aug 28, 2009

This week we are packing up and leaving what seems to be an early fall in Michigan to the mind numbing heat, or is it pouring rain?, of Georgia! We are very excited as this will be the first Georgia visit for both of us.
Things we plan to do:
Not to be out done by the food, but Sergey and I will celebrate our 4th wedding anniversary on September 2nd. I truly can't believe four years have gone by! See you all soon!
Posted by Nina on Sep 12, 2007
The Anniversary Trip 2007 (2nd year)
We're finally home!
I have so much to tell you all! I have restaurant reviews, sewing projects done, knitting projects started, photos, trip information, and ravelry news! Take advantage of the cuts to read about what intrests you to skip all of the rest.. or click here to read the whole journal entry.
The Trip & 2 Vegan Resturant Reviews
San Franciso, San Jose, Montery Bay, Vista Point, Carmel, & Daly. Yes, we visited all of those places and more. We drove around looking at the coast a lot.. we shopped, we ate, we drove, we relaxed, and above all, we had a blast. We didn't get to make it to two of our spots we wanted to see, the Winchester Mystery House or the Monteray Aquarium.. but it was a full trip with no disapointments. I didn't expect the wind off the ocean to be so cold! Imagine, a Michigan girl going all the way to California and feezing her butt off!
Good Karma Cafe – 1.5 Stars
We stopped at Good Karma Cafe because of all the excellent reviews, I was expecting the food to be awesome! It was truly mediocre at best. I ordered Chicken (tofu) Teriyaki while my husband ordered Thai Chicken (tofu) Curry.. and we both got Vegan Eggrolls. Mine was nothing more than tofu marinated in soy sauce and brown rice. Not even any scallions or green onions or anything on top. No sauce. Sergey's Thai Curry was better as it consisted of potatoes, peas, and carrots… but that was about it. The egg rolls were just carrots wrapped in filo dough… and nearly burned! The food was edible but its NOT a place I would recommend ANYONE going to for good Vegan food. If I wasn't already Vegan, this place would never make me want to be one. It's amazing that this place got so many great reviews. I thought it was terrible. Maybe I am a food snob? For $13 that we spent I expected at least Taco Bell quality food.. I should have saved my cash and just went there. The Service was ok but even that wasn't great. No, I wasn't impressed.
Millenium – 5 Stars
This place is would make me turn Vegan if I wasn't already one! If you are in the are and looking for an excellent restaurant with good atmosphere and excellent food — go here!! RUN! Don't walk!! I had the Lemongrass Stir Fry and Sergey ordered Stuffed Truffled Roulade and for appitizers we ordered some fresh corn and antique tomatoes w/ basil and dessert was Chocolate Almond Midnight and Vanilla & Mango Sorbet. I ordered a Blue Moon cocktail while Sergey had an Izzy's soda. The food was delicious! We ate every last bite of everything we ordered! The atmosphere is slightly romantic but it isn't some place that you couldn't take your (well behaved) child. I can't even begin to tell you how great the food was.. except that there is no way I would have believed this was a fully Vegan restaurant if I hadn't read it before. None of that "it tastes just like real meat!" stuff, just awesome food! You MUST add this place to your travel plans if your going through San Francisco!!!
The Sewing Project: The Anniversary Dress
I've been reading   but definately my own 🙂
Sewing Project #2: Gown Ideas
I think I have mentioned my grandmother was a pretty well known seamstress.. she made tons of wedding dresses, gowns, costumes for dance companies, and tooooooons of side projects.. I am pretty sure I get my sewing compulsion from her. It's more than a hobby its more like an obsession/addiction. As soon as I finish one project I feel the need to begin another… I am used to this with knitting (most of you knitters know the lust of new yarns and project envy) but this is probably just as strong if not stronger than my knitting pull. I finish one thing and immediately begin saving pictures for project ideas for the next new thing.
Since the Ren Faire is in town.. I can't very well only own one costume, can I?! No! So I have another gown in the project que. I am dying to make some corsets but I think I really need to get more projects under my belt before taking on one of those.. they have to fit just right or the whole thing is bust. Add me to the billions of people lusting after Arwens gowns in LOTR. I am thinking to attempt this dress… or this one… or this one.. or possible a mixture of a few different patterns for something uniquely my own.. I haven't really made a decision yet.
Sewing Project #3: The Finished Renaissance Costume! LOTR Eowyn's Gown
I have had a few people ask me for photographs of the finished gown.. so here it is, in all of its glory. Not the best photographs of me.. but….. here you go anyway 😛
…Click the photograph to view large size..
Ravelry News: I Finally Made It!
Is ravelry as fabulous as people make it sound? Yes, it is. I haven't gotten to spend much time on it yet, as I have been trying to upload my finished projects and update my "I need to knit that!" list.. but if your already in, friend me 🙂 I am CherrySprinkle there as well. I am still adding and updating it so my notebook sections are changing quite a bit every day.
Knitting Projects: Macbeth Kidsilk Night Kiri Shawl & Teddy Bear
I bought some addi turbo lace needles and some Rowan KSN in Macbeth while in California.. I stopped in at ImagiKnit and spent some time looking over their yummy yarn selections before deciding on KSN. I had wanted to see the Macbeth color before ordering it since I wasn't sure it was going to be a color I liked, but to my surprise it was exactly what I was looking for! I've decided I am going to knit up the Kiri shawl in it. It is my next project once I finish my Faux-Russian Scarf.
I don't think I have mentioned that I found this adorable teddy bear knitting pattern at my LYS.. I started knitting it up. I have to finish the paws and sew the eyes on and he will be finished. He's in a cute little lemon yellow. He's adorable.. I can't wait to take pics of him.
Photos From Our Trip
Ocean Winds..

Ocean View..

Twin Peaks (we spent our Anniversary night looking at this..)

View from my airplane window..

Freezing my butt off at the ocean… who knew California was so cold!?
I think thats quite enough for now… but as you can see, I have been busy! If you'd like to see more photographs from our trip, check out my flickr in the few days to come… Oh! and those of you wondering what kind of gift I got for my anniversary… I got this!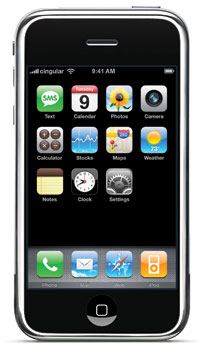 Posted by Nina on Aug 21, 2007
On September 2nd It will have been two years since I walked down the isle. That's only 730 days.. but thats 730 days than I ever thought would happen. I never pictured myself being the marrying type… but I am, and it's been wonderful. We've had our share of ups and downs but I think the key to life long happiness is finding someone you like to be around and who can make you laugh even in the darkest hours… someone you stay with because you want to, not because you have to. This has been a very hard year for both of us. Sergey's grandmother has had 2 strokes, I lost my father, and we're planing to buy a house some time in the near future. I think it's pretty safe to say that we need a vacation.
We're heading to California! We are having dinner at Millennium for our anniversary, and I am dying to go to the Good Karma Cafe and Mekong for lunch… not to mention all of the knitting shops I have found online.. flying makes me nervous.. so I am a little on edge but more excited than anything.. does it make me sound like a lush to be looking forward to Millennium's cocktails??
Anyhoo… California, here we come! Oh.. and I am still behind 1,587 people waiting for their invites to ravelry! *le sigh*
Posted by Nina on Jul 21, 2007
Well friends! I am off line until August 5th! I have no idea how I am going to survive all this time without the internet
and
my husband! I will have the new Harry Potter book to read, some new quilts to make, maybe sew a blouse or two, and make some new super yummy Vegan treats. I don't think I have ever lived this long with out having an occasional i-net outlet or two but the difference here is, the only place I can get online there are McDonald's and Barns & Noble. BOTH places I try to avoid. I can't go to B&N without buying 800 books, and McD's for obvious reasons!
I hope I can keep myself from reading the entire new HP book all in one sitting because I have 2 weeks of time to fill! I'm going to aim for a couple chapters a day and see if I can stand not ravaging the entire book, otherwise I will be left with nothing to do and no where to go! Mum only has basic cable so that means after midnight, the only thing to watch is HSN, QVC, or infomercials… all of which are not good in the hands of a shop-a-holic! So…………..
I bid ye, farewell my friends!
Posted by Nina on Sep 4, 2006
So much has happened since my last update, I don't even know where to begin… we've been to Watkin's Glen state park, Taughannock falls, antique shops, and a few vineyards along the way. It's breath taking here.. the weather hasn't been the greatest.. but at least we only had one day of real rain.. I'm sad to be leaving here tomorrow. 🙁
Belhurst Castle: Where we are staying

The only patch of sun we've seen

NY lake view

Rapids at Watkin's Glen

Taughannock falls

Posted by Nina on Sep 2, 2006
Tonight is our anniversary, so what am I doing online? Well…. when its raining buckets outside, and you are staying on a lakefront, the only thing you can do is sit and watch the view… We went shopping earlier this morning and I found a wonderful little shop called 'Mother Earth' that is a health nuts dream! They have everything from Nag Champa to every vitamin and mineral that you probably never even knew you needed! They had a beautiful selection of essential oils and special teas.. I highly recommend. We then went on to buy 2 umbrellas, and my very first autumn coat… yes, thats right.. I said a coat. It's FREEZING!
We had a beautiful dinner in a very Titanic like dining room complete with a fire place that looks a lot like the one seen in the movie. Dinner was fabulous, the champagne was a dream, and now our bellys are full, we are tired, and are looking forward to retiring to our room to… you know.. be married!
Posted by Nina on Sep 1, 2006
As we thought we had everything packed and ready to go.. it turns out we were not so successful. I have forgotten to take a hairbrush and Sergey forgot my tennis shoes. We have decided to stop at one of the shopping malls along our route to the hotel. We didn't get into grandma's until around midnight. We ate some quick quesadillas and cheese puffs and turned in for the night some where around 1:20am. Not exactly the kind of start I had envisioned for this trip! but as I have learned in the first year of my marriage, you have to expect delays and unexpected events to happen.. my husband doesn't think that I am very patient….. however, I think I am 200% more patient than I was before we got married.. I didn't even freak out about my shoes!! Sergey had plans for us to leave at 5am but some how he slept right through his alarm and we didn't wake up until after 8am. It was perfect though because we ran out and got my shoes, had breakfast, and hit the road somewhere around 10:30am. It's now nearing 1PM on the east coast and I am sitting at some 'tourist plaza' typing this from our car.. YAY!! internet access finally!!!!! I will update again when I find another wireless network. The lovely sign you see on this entry is what we found at Subway last night when we stopped for road snacks… how long do you think it has been that way? lol
Posted by Nina on Aug 31, 2006
All the bags are packed, the laptop has been updated with all the necessary files, and all that we are waiting on is for the working day to be over so we can get under way for our anniversary vacation. One full week of pure luxury! I cannot wait! All that is left is to grab dinner and run.
NOTE: To those of you who do not understand how some of us feel like our pets are our children.. move on to the next paragraph.
I hate the thought of leaving Bella for a full week 🙁 I have never left her for that long before.. and to say that she is very attached to me is the understatement of the year. She has anxiety when I leave her so I try to take her with me every where I possibly can.. this time I just can't.. We are leaving her with my gramma with Ruff, E-V, and Putin (the cat)… She will have someone who will love on her endlessly, throw her ball until she falls over from exhaustion, and a huge back yard to play in.. oh and yes, her very own size swimming pool! I know she will be well taken care of.. but like a good mommy, I am still worried she will be uncomfortable with out us. Grandma says she usually is ok during the day but she looks for me when shes ready for bed (just like at home).. but I am absolutely positive she will have the time of her life at grammas.
I have packed a sweater, 3 or 4 tops, 2 pairs of jeans, 1 pair of dress pants, 4 pair of shoes, and jewelery.. I am thinking of trying on another semi-fancy pants suit just in case.. but then I also know my husband is going to say.. "we aren't going for that long!! you don't need so many clothes!!" and he is absolutely right.. but WHAT IF?! I am a Virgo, I can't help but over plan.. get over it 🙂 I will try to update when I can with pics. So until we meet again..
XOX,
Nina